Empowering Our Teachers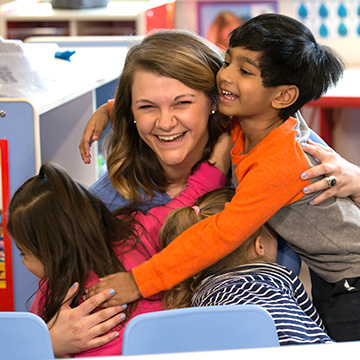 At U-GRO, investing in our team of educators is a top priority. Supporting your child's success starts with finding and retaining the right people who are passionate about early childhood education. To embrace that mission, U-GRO offers targeted training and career development to help our teachers reach their full potential, so your child will too.
Learning Management System: Through our online training tools, teachers stay current on essential skills like best classroom practices and child development strategies.
Child Development Associate Credential (CDA): We offer a CDA Preparation Program through a partnership with the Council for Professional Recognition. By doing so, we guide our educators toward receiving this nationally recognized credential. A badge of honor that essentially makes them certified child experts.
Master Teacher Program: Once a CDA is secured, our educators become eligible to advance their career and expertise even more through our Master Teacher Program. Teachers will master their skills and serve as a mentor to new teachers through advanced courses in child development, assessment, and curriculum implementation.
School Education Manager Program: This layer of continuing education builds curriculum experts. By engaging in classroom observation and evaluation, our School Education Managers (SEMs) focus on adhering to high standards of quality. SEMs learn enhanced leadership qualities and become coaches and mentors to other teachers, while delivering top-notch programs.