Summer Safari Program
We're WILD About Fun!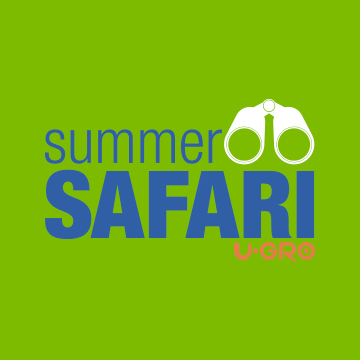 Keep your child engaged and learning, June through August! We have all sorts of exciting things planned this year to combine enriching, interactive activities with classic summertime adventures. Our goal is to encourage continued growth and education without compromising big fun!

Weekly Activities
Splash Day (Ages 2+)
Picnic and Frozen Treats (Ages 2+)
Bi-Weekly Spirit Day (Ages 2+)
In-House and Virtual Visitors Based on Weekly Theme (Ages 3+)
Additional In-House and Virtual Visitors (Ages 4+)
Additional Water Games and Activities (School Age)

New This Year!

We are excited to introduce a new series of summer camp themes for U-GRO students to explore as we embrace the adventure of education.
Ages 3, 4, and 5:
Everyone deserves a great summer where learning doesn't stop, and neither does the fun! Choose from weekly experiences, such as:
Movers and Shakers – Explore exercise and fitness to learn about healthy choices.
Down on the Farm – Peek into the world of farming with hands-on lessons about agriculture.
Science Squad – Do some experimenting in the lab to learn about the scientific method.
STEM Builders – The tale of The Three Little Pigs comes to life as children use Science, Technology, Engineering and Math to build structures—then try to blow the down!
Young Artists – Learn about different forms of art and create your own masterpiece.
On Our Way to Pre-K (Age 3 Only):
Prepare your child for their next classroom. This unique camp experience inspires confidence and develops critical social-emotional skills, such as:
Responsibility
Making friends
Cleaning up
Serving lunch and snacks
Kindergarten Cadets (Ages 4-5 Only):
Begin school with ease. In this program, Pre-K children get an end-of-summer boost to ensure kindergarten readiness with fun, real-world experience, including:
Hands-on, project-based learning
Math and literacy work stations
Routines such as hallway, lunch, and bus etiquette
School Age:
Combat the potential for summer learning loss with fun programs that integrate key educational concepts and skills. This series of camp themes includes:
Grow Fit® Kids – Develop lifelong healthy habits through sports, yoga, teamwork, and more.
Young Zoologists – Discover a variety of animals and learn about their habitats.
Scientific Discoveries – Discover the world of science through experiments and exploration.
STEM Explorations – Conduct research and use technology to explore the scientific method.
Art Expo – Tap into your own imagination and creativity to learn about a variety of art forms.
Gamer Challenge – Level up and become a master gamer by inventing your own games.