Nurturing Positive Behavior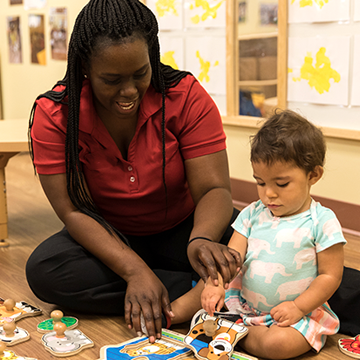 Dealing with challenging behavior in children is a natural occurrence for both parents and teachers. This is often tied to their development. A show of defiance or aggression, or the use of hurtful words, may be because a child hasn't yet learned the social, emotional, language, and cognitive skills needed to express themselves in more positive ways. At U-GRO, we see this as a learning opportunity. To help our teachers navigate these moments, we offer tools and resources for Positive Behavior Support.

Our exclusive myPath app contains strategies that encourage children to work through their emotions in a positive way, whether they're in the classroom or elsewhere.
myPath: A Valuable Classroom Resource
Here's a quick look at how myPath supports our educators:
Teachers can utilize age-appropriate tips and ideas within myPath to help children build the skills they need to reshape their behavior.
Strategies featured in myPath are vetted through current, trusted research about social-emotional development.
myPath gives teachers access to targeted strategies that address each child's specific developmental or behavioral needs.
The myPath resource also inspires teachers to encourage and empower children to showcase positive behaviors throughout each day.