Let's Strive to be Better, Together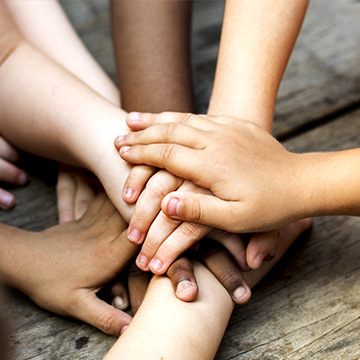 Throughout our school community, we share a commitment to fostering a culture where differences are valued, and interactions are free of bias. At U-GRO Learning Centres, we empower children and their families to value community by embracing unique identities, abilities, backgrounds, and points of view. It's part of fulfilling a vow we've made to make a difference and have a positive impact. We want our employees, teachers, and each child in our care to be comfortable sharing their authentic self. That's why it is important for us to ensure a wide range of diverse voices are recognized and represented.
Together, we work hard to celebrate diversity, embrace our community, and create a sense of belonging where everyone thrives.
In the Classroom
Here, we encourage your child to dig in and discover the extraordinary world around them. As part of our mission to cultivate a welcoming community, our educators and caregivers model kindness and empathy. Every child deserves to feel safe, represented, and accepted in an inclusive environment that includes:
Diverse classrooms, vital to learning.
Engaging, educational experiences.
Spaces that reflect our diverse communities.
To accomplish that commitment and acknowledge our vital role in shaping the next generation, we are proud to embrace
Reflecting Our Communities™, a program about the diversity of the world around us. Through this initiative, we will creatively share different perspectives and talk about the importance of respecting the unique qualities of each person and family.
Reflecting Our Communities includes two primary intentions:
Encouraging children to share their family culture and traditions with each other.
Sharing the beauty and diversity of the world around us.
In our classrooms, we'll accomplish this educational exploration in a few ways:
Engaging, collaborative activities
Visual posters and photo cards
Intentional use of music selections
In the Workplace
Our strength comes from the diversity of our team members and their unique perspectives. Our parent company, Learning Care Group, takes great pride in cultivating and supporting a work culture where inclusion, diversity, and equity are valued as a fundamental layer of our success. It's a philosophy infused at every level, from our corporate offices to our classrooms. The result is a safe, inclusive environment where all team members thrive. Education and diverse training opportunities then allow that commitment to reach our children, their families, our educators, and support staff.
Together, we will have great impact.