Our Grow Fit® Initiative
Your Healthy Future Starts Here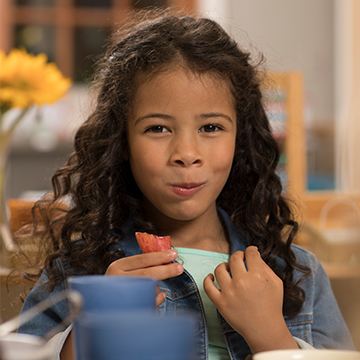 We pave the way for a lifetime of healthy habits with our comprehensive Grow Fit program. Our goal is to encourage balanced nutrition and physical activity at an early age, to support the complete well-being of your growing child.
Healthy Eating
We're proud to serve foods that are sourced by local caterers. Each menu is then reviewed by a dietitian to make sure we're serving well-rounded, nutritious meals and snacks, including:
Fresh fruits and vegetables
Whole grain foods with plenty of vitamins
Foods free of artificial dyes
To meet the various needs of our children, we also create an alternative menu that is vegetarian and dairy-free. Please let us know if your child has any special dietary needs (due to allergy restrictions, a medical diagnosis, or religious beliefs), so we can outline a suitable food plan.
Physical Fitness
We want children to take care of themselves at all ages, so movement and motor skill development is important to us. Activity is part of our daily routine.
60 minutes of outdoor physical activity for toddlers and 2-year-olds.
120 minutes of daily activity (at least 60 minutes outdoors) for children older than 3.
Nutritional Education
Teachers integrate healthy concepts into daily classroom lessons. This may include actions such as:
Sharing books that support healthy eating and physical activity in a positive light
Teaching health lessons that highlight various subjects, such as what it means to achieve "energy balance," pertaining to food intake and the body's daily needs
Using models or toys representing fruits, vegetables, or other healthy foods for pretend play